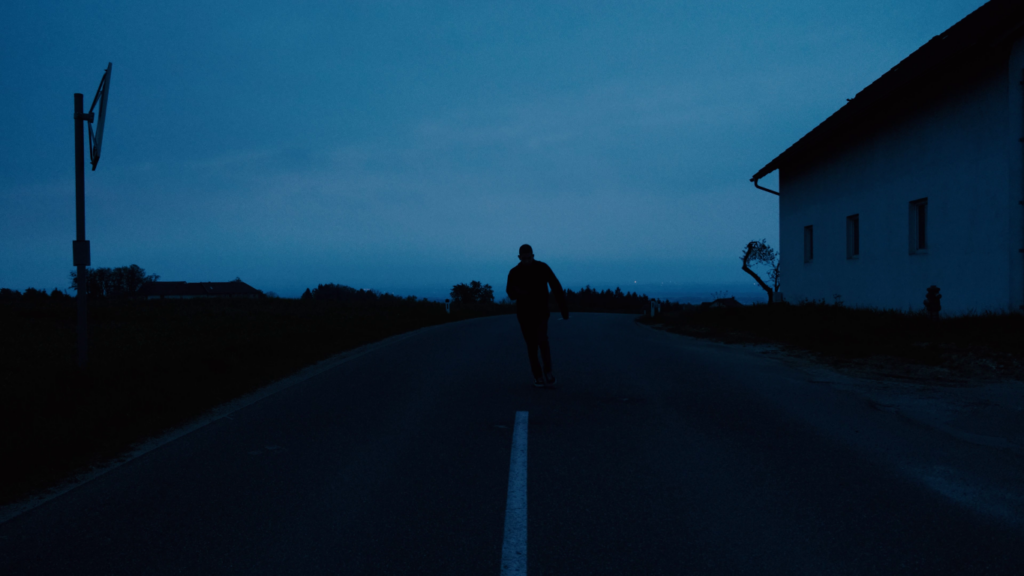 Perioada:
07.12.2023
Program:
15.00-17.00
Locația:
Colegiul de Arte "Sabin Drăgoi" Arad / Laborator Speculativ DM
Acces gratuit
Timetable EN
"Die blaue Stunde" film, 25 min
Discuție deschisă și prezentare  Ars Electronica "Sound painting"
Descriere:
Filmul prezentat "Die blaue Stunde" este un studiu al conflictului interior al "Generației Z" rupt între responsabilitatea pentru mediu și disperarea eșecului perceput, precum și între dăruirea altruistă față de societate și căutarea de sine. După proiecție, va avea loc o discuție cu participarea publicului pentru cei interesați, în timpul căreia regizorul Vincent Adali și actorul principal Leonard Pabisch își vor împărtăși experiențele, gândurile și provocările. În încheiere, va fi prezentată o colaborare de proiect cu Ars Electronica — o instalație care a fost prezentată la Festivalul Ars Electronica 2023.
Vincent Adali:
Numele meu este Vincent Adali. Am 17 ani și sunt la "Europagymnasium Baumgartenberg". Investesc tot timpul meu liber în proiecte de film și limbi străine. Îmi este greu să-mi amintesc momentul care mi-a stârnit pasiunea pentru film. Până acum, simt ca și cum a fost întotdeauna așa. Cu toate acestea, știu că de la o vârstă fragedă, mi-a plăcut să lucrez creativ și practic. Filmul este perfect pentru asta, deoarece este un mediu atât de versatil. Acesta cuprinde totul, de la procesul de scriere și planificare a filmului până la tehnicile de sunet și fotografie implicate, munca efectivă cu actorii de pe platou și, în sfârșit, procesul de editare.
Abilitățile tehnice și practice necesare pentru a da viață filmului le-am dobândit nu numai prin lectura cărților de specialitate și cercetări online, ci și printr-un curs intensiv la "Prager Fotoschule" și conversații aprofundate cu rudele mele apropiate. Mai ales cele cu tatăl meu, care, prin munca sa de fotograf, este familiarizat cu soluțiile la problemele complicate din punct de vedere tehnic. În acest moment, am regizat deja două scurtmetraje experimentale, care se concentrează pe modul în care un film poate "intra sub piele"; folosind mijloace audiovizuale.
De curând, mi-am dat seama că a face un film este un efort de colaborare. Este un proces care consumă timp, care poate fi realizat doar cu o echipă dedicată ideii și filmului în sine.
Leonard Pabisch:
M-am născut în 2006  în Boecillo, un oraș din nordul Spaniei și am stat acolo cu mama timp de nouă săptămâni. Dar în curând mama a decis că va fi mai ușor să crească un copil orfan de tată în patria ei, Austria, decât într-o țară în care nici măcar nu vorbește limba.
Am crescut la o fermă dintr-un sat mic în care am locuit până în 2020. Prin urmare, animalele au fost o componentă importantă în viața mea și mi-au modelat multe dintre interesele și viața de zi cu zi. Am început să merg la o școală într-un sat din apropiere, unde îmi voi termina A – Levels anul viitor. După aceea, voi studia fizica la Viena.
Fac simultan o ucenicie în mecatronică pentru că acum doi ani mi s-a părut o idee genială, după ce am făcut un stagiu de mecatronic vara trecută am început să mă îndoiesc de strălucirea mea de 15 ani. Tatăl meu mexican a reapărut în viața mea când aveam doisprezece ani și încerc să-l cunosc atât cât îmi permite școala și munca lui. În ultimii ani am încercat să dobândesc cât mai multă experiență de lucru, dar eforturile mele nu au dat încă roade, deoarece nu am găsit mediul de lucru potrivit pentru mine. Acum încerc să-mi canalizez energia pentru a mă menține în formă mentală și fizică în timp ce încerc să explorez tot ce are lumea de oferit.
_________________
EN
Description:
The presented filmDie blaue Stunde" is a study of the inner conflict of the "Generation Z" torn between environmental responsibility and the despair of perceived failure, as well as between altruistic dedication to society and the search for oneself. Following the screening, there will be a panel discussion with audience participation for interested viewers, during which the director Vincent Adali and the lead actor Leonard Pabisch will share their experiences, thoughts, and challenges. To conclude, a project collaboration with Ars Electronica will be presented—a installation that was featured at the Ars Electronica Festival 2023. With that in mind, film off.
Vincent Adali:
My name is Vincent Adali. I am 17 years old and attend the "Europagymnasium Baumgartenberg". I invest all my free time in film projects and languages. It is difficult for me to recall the moment that sparked my passion for filmmaking. By now, it feels as if it has always been this way. However, I know that from an early age, I enjoyed working creatively and practically. Film is perfect for this, as it is such a versatile medium. It encompasses everything from the writing and planning process of the film to the sound and photography techniques involved, the actual work with actors on set, and finally, the editing process.
The technical and practical skills needed to bring the film to life were not only acquired through reading specialized books and online research but also through an intensive course at the "Prager Fotoschule" and in-depth conversations with my close relatives. Especially those with my father, who, through his work as a photographer, is familiar with solutions to technically complicated problems. At this point, I had already directed two experimental short films, focusing on how a film can "get under the skin" using audiovisual means.
Soon, I realized that making a film is a collaborative effort. It is a time-consuming process that can only be accomplished with a team dedicated to the idea and the film itself.
Leonard Pabisch:
In 2006 I was born in Boecillo a city in the north of Spain and stayed there with my mother for nine weeks. But soon my mother decided that it would be easier to raise a fatherless child in her motherland Austria than in a country where she doesn't even speak the language.
I gained consciousness on a farm in a small village where I lived until 2020. Therefore, animals were an important component in my life, and they shaped many of my interests and daily life. I started to attend a school in a nearby village where I will be finishing my A – Levels next year. Afterwards I am going be studying Physics in Vienna.
I am simultaneously doing an apprenticeship in mechatronics because two years ago I thought this was a brilliant idea, after doing an internship as a mechatronic last summer I started to doubt the brilliancy of 15-year-old me. My Mexican father reappeared in my life when I was twelve and I try to meet him as much as my school and his work allows. In recent years I tried to gain as much workingexperience as possible, but my efforts have paid off yet as I have not found the right working environment for me. Now I try to channel my energy into keeping myself mentally and physically fit while trying to explore everything the world has to offer.